"There is a pre-war house on the site, can it be removed?"
We get this question regularly from homeowners, prospective buyers, and real estate agents. It is usually a quick and easy one to answer once you know what to look for.
Step 1: Overlays
In Brisbane, there are three planning scheme overlays that can protect dwellings from demolition:
Traditional building character overlay
Pre-1911 building overlay
→ If either of the above overlays are shown, continue to Step 2.
→ For sites in the Heritage overlay (excluding the 'adjoining heritage' sub-category), contact us or phone Council on 07 3403 8888.
You can easily check the overlays affecting a property by searching the address on City Plan online.
If the site is unaffected by these overlays, the house is not protected under the planning scheme.
Note: The 'Dwelling house character overlay' affects every residential zoned lot in the city and only regulates general aspects such as building height, small lot setbacks, and secondary dwellings (granny flats). It has no effect on whether an existing dwelling can be demolished.
Step 2: Date of Construction
The Traditional building character overlay only protects dwellings that were constructed in 1946 or earlier. Conveniently, the City Plan online mapping system includes 1946 aerial imagery which makes it easier to determine if a dwelling is 'pre-1947'.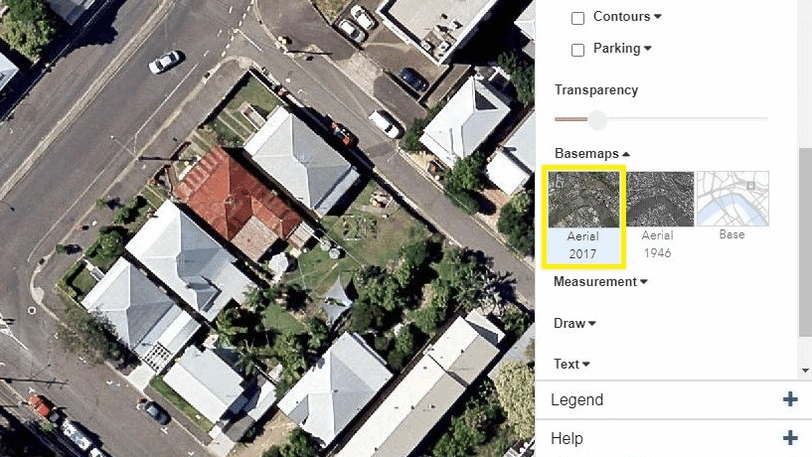 If the dwelling is pre-1947 and affected by the Traditional building character overlay, it cannot be removed without development approval from Council.
As the name suggests, the Pre-1911 building overlay protects dwellings constructed before 1911. Sites affected by this overlay almost always contain protected dwellings, but further investigation may required (e.g. historical building records) to confirm this.
If the dwelling is pre-1911 and affected by the Pre-1911 building overlay, it cannot be removed without development approval from Council.
Other Considerations
Temporary Local Planning Instruments (TLPIs) and proposed City Plan amendments should always be checked as part of due diligence for a property purchase or when considering development in general. TLPIs can impose protection on dwellings in a specific area or site, while upcoming planning scheme amendments might introduce protection in the near future through changes to overlays.